Galt 8 Mine Site Development- Video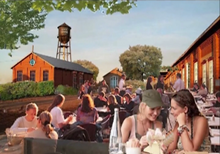 Proposed Galt #8 Mine Site Development
In this video and powerpoint presentation, Alvin Fritz, of Alvin Reinhard Fritz Architect Inc., details the proposed development plans for the Galt #8 Mine Historic Site.
If you are unable to view this video here, please visit
"Proposed Galt 8 Mine Historic Site Development" video on YouTube.
For more information, contact Vivian Toth Malmo at (403)-393-1428, or send us an email through our
Contact
page.
---