Commissioned by the Galt #8 Mine Site Historic Society, the scale model of the surface of the Galt #8 Mine as it would have looked in the heyday of production was constructed by the Lethbridge Model railway Society from plans, photographs and local knowledge.
Correct in every detail, the model gives us all a glimpse into the past, from the steam train thundering along the line to Fort McLeod, to the mine workers on their way to the pit head.
The model is displayed at the Lethbridge Centre mall in the Society's booth on the second floor. Occasionally it is moved to other sites to enhance public awareness of the Society. Ultimately, we hopeit will have its own place in a museum at the restored Galt #8 mine site.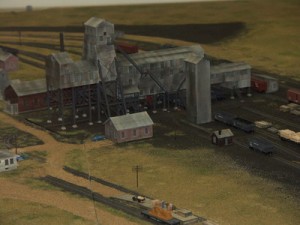 The pit head at Galt #8 Mine, where men entered the mine. The building to the right of the shaft headframe is where the coal was sized and cleaned for sale.
View of the model showing the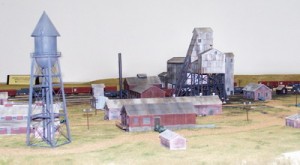 water tower and stores with
and stores with the pithead in
the background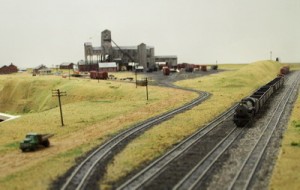 Reminding us of when coal was vital to the railways, a steam locomotive comes off the High Level Bridge and thunders past the Galt #8 Mine site.